---
Josephson Engineering microphones in use
The photos below demonstrate just a few of the many ways demanding audio professionals use Josephson Engineering microphones in the studio, on stage, and in the field.
---
Josephson C722 (a custom version of the C716, with outputs from the front and back diaphragms) at the Meistersaal in Berlin for Berliner Meister Schallplatten...

---

Josephson e22S in the concert hall... German national public TV station ZDF used e22S mics on tympani for the 2011 Silvesterkonzert (New Year's Eve from Dresden, click to hear entire concert)
---
Josephson e22S in the studio. Nashville recording engineer Jeremy Ferguson was in the studio recently with Be Your Own Pet recording and mixing tracks for their upcoming second album. David Piechura, now with Super Duper Recording, forwarded us some photos from Jeremy of him setting up some e22S' on the drums for the session.
Thanks Jeremy!!
---
Josephson C700S for live recording and surround broadcast.
This year's 2006 Christmas Vespers concert broadcast from Hope College will prominently feature a C700S in the audio mix. The broadcast is scheduled to start airing as soon as December 13th, on public radio and television stations across the United States in both stereo and surround sound. Find up to the minute broadcast times as they develop here!
The annual broadcast was recorded by Engineers John Erskine (above right) and Glenn Brown (above left.)
The C700S in action. (After a comparison, the trio of Neumann U87's seen here in decca tree configuration surrounding the C700S were not used.)
---
Josephson C42 for live recording and in concert

Live Sound & Recording Engineer Colin Cargile gave us a call to let us know how he has been using and liking his matched pair of C42's. Colin been using them a lot, including in the mix for FOH ambience pick up on all of the Allman Brothers Band Instant Live CD's for this summer's tour (6/16/06 - 9/1/06), ...
trying his C42's on either side of Gregg Allman's leslie (above) at the Nokia Theater in New York City on one night of the Fall 2006 Gregg Allman & Friends tour, ...
at The State Theater in Falls Church, VA in December 2005 for the Benevento/Russo duo featuring Mike Gordon New Years Run (with Duo tour manager Brian "Bronko" Aiello beside Colin) with his C42's on either side of FOH as part of a live recording mix, and ...
in Missoula, MT (with Rob Neumann, lights, beside Colin) in July 2005 for Signal Path also with his C42's FOH as part of a live recording mix.
---
Josephson Series 7 in concert
Bearfoot at the Spring 2006 Strawberry Music Festival around the C700S stereo microphone
---
Josephson 5 Series in concert
Kelly Kay of Josephson Engineering drops off a new Josephson C550H microphone to FOH Engineer Jim Yakabuski (Van Halen, Matchbox 20) in order to measure house levels for Avril Levigne at the HP Pavillion, San Jose, California on 11/19/04.
---
Josephson C42 in the broadcast studio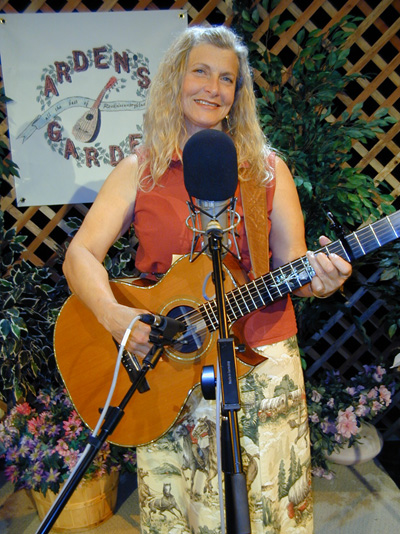 Sherry Austin using a Josephson C42 microphone on acoustic guitar.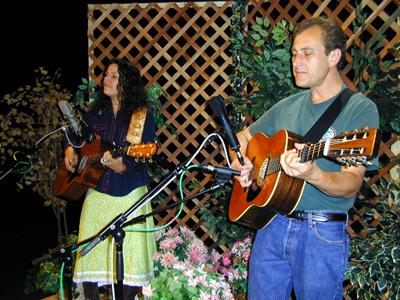 Jim Lewen and Corinne using Josephson C42 microphones on acoustic guitar.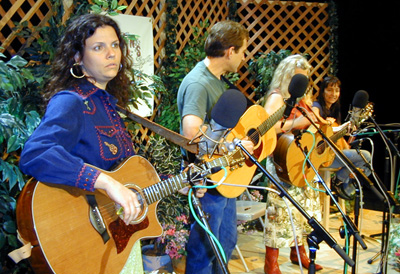 Sherry Austin Band with special guest Jim Lewen at the taping of the Arden's Garden TV show, May 2004.
---
Josephson C42 in the studio
Alex de Grassi using Josephson C42 microphones to record acoustic guitar, Comcast video shoot, Denver, 2004
---
Josephson e22S on stage
Kalyan Pathak (here with the Fareed Haque Group) using a Josephson e22S microphone on the tabla, live at Moe's Alley, Santa Cruz, California, 12/4/03
Kalyan's road tabla rig includes internally-mounted custom Josephson tabla mics. He also used a Josephson e22s microphone on several Fareed Haque Group 2003-04 tours, as well as on their latest album, Cosmic Hug (Magnatude Records).
---
Josephson C42 on stage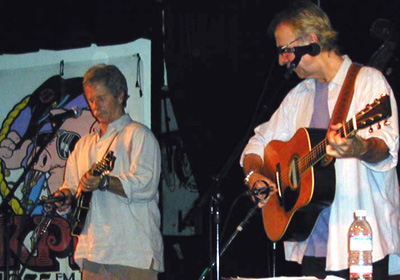 Chris Hillman and Herb Peterson using Josephson C42 mics on mandolin and guitar, live at the Kuumbwa Jazz Center, Santa Cruz, California, 11/24/02
---
Check back soon for more examples of Josephson Engineering products in use.
---